Ad blocker interference detected!
Wikia is a free-to-use site that makes money from advertising. We have a modified experience for viewers using ad blockers

Wikia is not accessible if you've made further modifications. Remove the custom ad blocker rule(s) and the page will load as expected.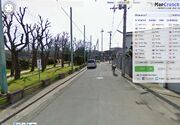 Have you ever woken up and expected to be in your bed, only to open your eyes and be shocked to find you were somewhere else? Usually after this happens, you quickly remember where you are how you ended up there. But what if one day you woke up in a strange place and had no recollection of how you got there? How would you react? How would you find your way home? You've just woken up on in an unfamiliar area. You think as hard as you can, but your last memory is of going to sleep in your bed. "How long ago was that?", you wonder. You check your surroundings but can't seem to recognize anything. Looks like you're going to have to find your way back home.
How to Play
Edit
Map Crunch is a website that randomly places you somewhere on the world using Google Maps Street View. The Map Crunch Game is a game where you must navigate your way from your 'spawn' point to a predetermined objective, usually an airport or the players house. The basic rules are; select your country, check the cities only and hide location boxes and press N. The game ends when you find an airport. The community has also come up with many different difficulties and other twists to change the rules and make the game more interesting. 
Start here: www.mapcrunch.com
On February 19th, 2012, the Map Crunch site found themselves so swamped with visitors the site crashed, prompting its move to a new server.
Temporary server: www.v3.mapcrunch.com
DON'T FORGET: THE FIRST IMAGE YOU SEE IS THE "IMAGE OF THE DAY" OR SOMETHING. DON'T MAKE A MILLION POSTS ON /v/ ABOUT IT HOW YOU SPAWNED NEXT TO A DEAD BODY IN A GORILLA MASK.
Geography
Edit
Latest activity
Edit